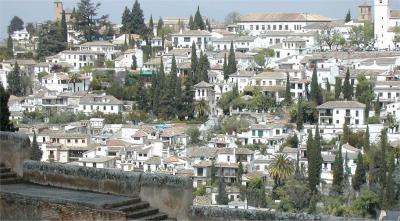 In Granada city there are many emblematic places: Mirador de San Cristobal (San Cristobal View Point), from where every look becomes a different landscape, or Mirador de San Nicolás (San Nicolás View Point), from where you can have an excellent view of The Alhambra.
And from the greatness of the Alhambra fortress, The Albaicín, which was declared World Heritage Site by UNESCO in 1994, can be seen. In fact, this neighbourghood is considered as an example of urban inhabited buildings which have become a rich legacy of The Arabic Architecture in Spain.
This is another of the places you cannot avoid visiting while visiting Granada. You will enjoy it a lot.