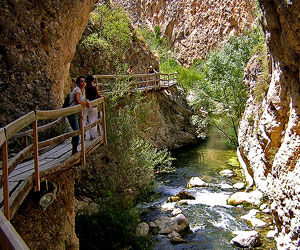 The Natural Park Sierra de Castril and Castril itself are very well-kown within the High Plateau of Granada (Altiplano de Granada) because of their spectacular landscapes, which are a surprise for the visitor as they were to me when I first visited them.
From Huéscar to Castril you can enjoy a surprising variation of landscapes, from what it seems to be a very monotonous series of flat lands to hills and badlands until you reach the Natural Park Sierra de Castril, which is full of green vegetation and water. Once you are there you can go hiking along 2 accessible paths, which are very easy and attractive to walk: the source of the Castril River (El Nacimiento del Río Castril) and La Magdalena Cliff (La Cerrada de la Magdalena). Both of them are well signposted, so it is not difficult to walk the way. Moreover, there is another surprise in the low area of the town, a very special walk by the River Castril along a hanging bridge across the river, which makes the walk particularly exciting.
Therefore, I highly recommend you to visit this area and you should try to stay in any of these places: El Maño I or La Saludá Alta, although there are many other places where to stay.