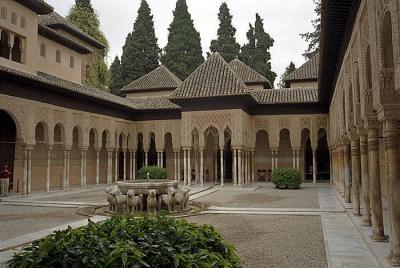 The Alhambra lies at the foot of Sierra Nevada. It was the last Muslim stronghold, ant it has become a centre of cultural and artistic exchange since then on...
The Muslims were responsibe for most of its exceptional heritage. It is full of narrow alleyways, beautiful gardens, wells and fountains, although one of the richest and most original arquitecture is found in "El Patio de los Leones", The Lions Courtyard, with its magnificent fountain dominating the "Patio" and its lions preserving it. This "Patio" is like an oasis surrounded by trees... It is a "Garden of delights" with clusters of delicate columns supporting the galleries around the courtyard.
But there is also another Granada, the Christian and Renaissance Granada which was chosen by the Catholic Monarchs as their final settlement... A Granada which offers cultural events of the highest level, highly personal gastronomy, arts and crafts, as well as a specvial character which has inspired so may times famous artists and writers, among them Washington Irving.