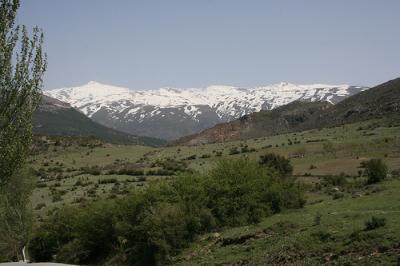 Sierra Nevada is a National Park just 10 kilometres away from Granada City, and it is also one of the main skiing resorts in Spain, although it has also spectacular landscapes in spring and nature and adventure activities in summer too.
At Medieval times it was known as the Mountain Range of the Sun, the towns of La Zubia, Cájar and Monachil are on its feet, together with Huétor Vega, one of the towns which has important testimonies of its historiacal past and the civilizations that populated it... By this area the old "neveros" carried the ice to the city of the Alhambra in ancient times. And following the path of the Genil River, we can reach Cenes de La Vega and Pinos Genil, full of almond trees in flower during spring time, and behind Canales reservoir we can reach the Güejar Mountain Range, where we can combine the cultural visits with active tourism.
If you visit this region you should also have a trip to "El Charcón", to "La Vereda de la Estrella" or to the "Maitena River", where you can enjoy its natural swimming pools in summer time.
It is a wonderful place to visit all year long, and where to practise all kinds of sports: just try hiking.