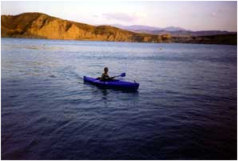 This weekend a "Triatlón" competition is going to be held for the first time in Pozo Alcón, a town in Jaén, in the Cazorla Range, but very close to Cuevas del Campo in the north area of The Granada Province. The competition consisting of 450 metres swimming in "La Bolera" reservoir, 27 Km cycling on the road, and 5000 metres running round Pozo Alcón is going to take place on Sunday July 11th.
Practising adventure sports is a good way of knowing rural areas around Andalucia, which is full of wonderful places where practising sports in touch with nature. Sports such as: hiking, climbing, hang-gliding, cycling, swimming or horse riding, among others... and in such places you can also find a different kind of lodging, cave house, of which there are quite a few in Cuevas del Campo, thus enjoying the experience of resting without air conditioning, but very cool in summer nights.
Do not miss such an opportunity!!!