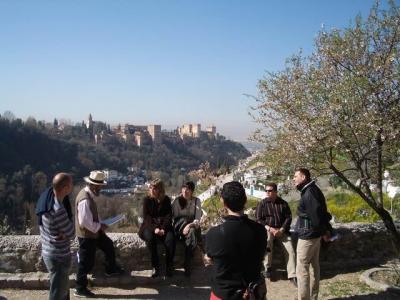 The best way to move along Granada and enjoying the city is walking. It is quite interesting to walk along the narrow streets and arount the typical historial centre... although you will also find a system of rental bikes is being considered to be introduced as a way of moving through the city.
Moreover, there is also an effective bus system covering the entire city, which also reaches Federico García Lorca Granada-Jaén Aiport, located in Chauchina, just 17 kms away from Granada. The airport bus follows this way: Airport - Bus Station - La Caleta - Jardines del Triunfo - Gran Vía - Catedral - Puerta Real and Palacio de Congresos and back. So, you can go from the airport to the city centre or back. There is also a taxi service in the arrival area but the price is higher.
In the city you can enjoy the monuments, the typical narrow streets in the centre, around the Realejo area... and the visit to LA ALHAMBRA, which is one of the wonders in The whole Province of Granada and in Spain. Do not hesitate in visiting it, as it is worth more than one visit.
...And if you are in Granada just try the typical "tapas" of the city. They are small meals you can have when you ask for a drink, so just try them and enjoy yourself.